If you want to do weight training at home, you need to have the right equipment. There are various pieces of home gym equipment that you should look at based on what you want to achieve. Each piece of equipment will have its own pros and cons that you need to consider before you make any decisions.
Multi-Gyms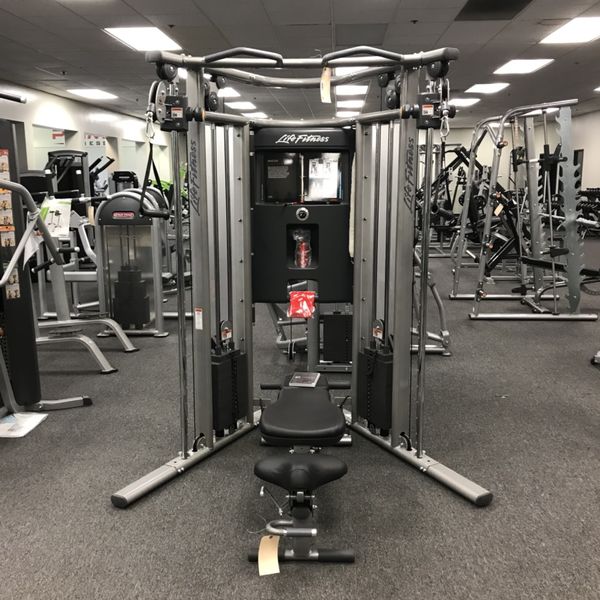 This is an all in one machine that allows you to work different muscles through weightlifting. The weights are stacked plates at the back of the machine and are connected to a pulley system. You are able to set the resistance or weight you lift by putting a pin in the weight stack at certain points.
The primary benefit of this piece of home gym equipment is the vast range of exercises you can perform with it. The space required is also low when compared to the exercise it provides. The machine is good value for money, simple to use and you will not have to purchase any additional weights.
The primary drawback of the multi-gym is the maximum weight is limited by the weight of the stack. Some assembly will be required when you first get this machine and it will be harder to move once in place. There are also many people who find weightlifting with this machine to feel less natural than lifting free weights.
Lifting Stations
Lifting stations or racks are simple in construction and will have a metal frame with weight supports. The frame allows you to place the weights at a set height when you are done lifting them. There are some types of lifting stations that have weight benches and additional exercise functions, but most are simple frames. A lifting station is a good alternative to a multi-gym if you prefer heavy lifting and prefer to use weight plates.
The primary benefit of this piece of equipment is the range of exercises you can perform such as heavy lifts and squats. The total weight you can lift is also greater than the multi-gym. There are also many people who prefer the feel of lifting weights when compared to the pulley system of the multi-gym.
The primary drawback of a lifting station is the purchasing of the weight plates. These plates have to be purchased separately and you have to ensure they are correct for your station. There is also some assembly required with this piece of equipment and it does require a fair amount of floor space.
Weight Benches
A weight bench is considered one of the best equipment investments you can make for your home gym. These benches are versatile, lightweight and take up very little space. Most of these benches can also be moved with little effort and some models will have integrated weight supports making them ideal for heavy bench presses.
The primary advantages of weight benches are the light weight and the minimal assembly required. They also take up less space than other types of weight equipment while offering good value for money. The bench can also double as a rest station where you can relax after an intense workout.
The primary drawback is you are limited in the exercises you can complete when compared to lifting stations and multi-gyms. The weight plates for the bench will also need to be purchased separately. It is also not recommended that you use a weight bunch while alone because it could be dangerous.
Free Weights
If you are not looking for large pieces of equipment for your home gym, you should look at free weights. There are different types of free weights that you can get such as barbells, dumbbells, and kettlebells. The type of free weight you get will vary on the exercises you do and the muscles you want to work.
Barbells are best for heavy weightlifting that uses both arms. Dumbbells are better for exercises where each arm needs to be on its own. Kettlebells are used for ballistic movements and functional exercises that build the core.
There are many different types of weightlifting equipment you can get for your home gym. The equipment you choose will depend on the lifting you want to do, the muscles you want to work and your personal preferences.